A Note From Chris

Having your promotion materials critiqued can be scary, but it's a great learning opportunity. Linda Wallace and Peggy Barber of Library Communications Strategies, Inc. revamped the materials of 5 libraries for the Swap and Shop session at the American Library Association (ALA) annual conference. Our lead article shares their comments and the "befores" and "afters."

Treat yourself by watching the Fishbon Library news videos and glean ideas from the "Marketing, Schmarketing!" presentation. This and more in our Pearls of Wisdom column.

With this issue of Marketing Treasures we introduce a new, occasional feature called "Help this Marketeer." This short column will post a marketing challenge being faced by a colleague. You are invited to help by sending in your suggestion for solving the problem, which we will include in the next issue of Marketing Treasures. Our first Marketeer who needs help is the Library in Exter, Rhode Island.

Look for our next issue August 17th featuring tips and insights from the marketing presentations given at the AGLIN conference held in Canberra, Australia.

Happy Reading!
Chris Olson
Publisher
Brochure Makeovers Improve The Perception Of Value
Combine two communications pros, a savvy designer and 5 library brochures screaming for help, and what you get are inspiring PR makeovers shown at the American Library Association (ALA) annual conference. Organized by the Association's LAMA-Public Relations and Marketing Section Swap and Shop Committee, the makeovers were a new addition to the traditional "swap and shop" of library public relations materials where colleagues share ideas and examples of communications efforts.

We bring you the revamped materials, along with the comments and insights from Linda Wallace and Peggy Barber, the communications pros who conducted the makeovers, and the design talents of Sam Silvio of Sam Silvio Design. The original "before" brochure is on the left and the "after" brochure is on the right. The makeover designs are mock-ups and do not represent final, polished layouts.


HENRY CARTER HULL LIBRARY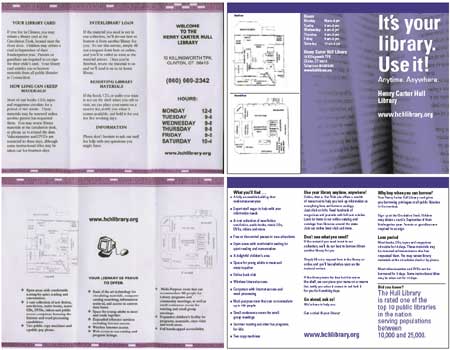 Comments from Linda and Peggy: We made the brochure a lot more assertive starting with the message on the cover—"It's your library. Use it!" The brochure they sent was done a few years ago when their new library opened. We tried to focus more on the services and less on the facilities and use more dynamic, user-oriented language. Instead of "Interlibrary Loan," we made it "Don't see what you need?" Instead of "Your Library Card," it's "Why buy when you can borrow?" Instead of "Information," we say "Go ahead, ask us!" We also added a "Did you know" factoid highlighting the library's high ranking and a "Use your library anytime, anywhere!" section highlighting the library's online services -- a big selling point these days.

A few words from Chris about this makeover: Preprinted papers are fine in a pinch, but as you can see, having a designer apply graphics and typeface treatments to create a visually appealing layout makes a big difference in the presentation of information. The use of a large and bold sans-serif typeface enhances the message of the front cover headline, and the readability of all headlines is increased with the use of upper and lower case, instead of all capital letters. The use of color is conservative and effective. I doubt if this brochure would cost much more to print on a color copier than it costs to buy the preprinted paper and run it through a black and white copier. Think about it. Would you toss out the original brochure without a second thought? How about the makeover brochure? Probably not, and that's the point. It may cost a little more to produce an inviting brochure, but if people don't throw it away, then it's money well spent.


JACKSBORO PUBLIC LIBRARY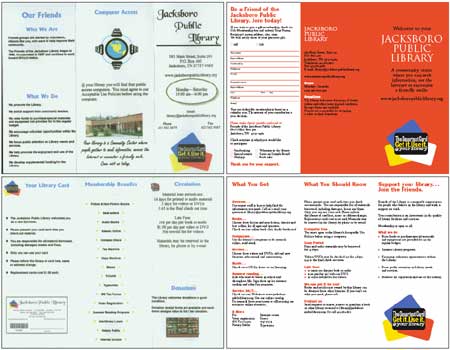 Comments from Linda and Peggy: The Jacksboro Public library was printed in four colors but didn't make good use of it. Although it said "The Jacksboro Public library welcomes you as a new borrower" in the text, the overall look and tone didn't feel inviting. We added "welcome" and the mission statement to the cover and worked on personalizing the copy. Instead of "Membership Benefits," we made it "What You Get." And instead of just listing the library's inventory, we focused on key services and their benefits to users, e.g. "Our expert staff is here to help…. "Check out a CD for home or car listening." What we call the instructional material about loans, late fees, computer policy, etc. is included under "What You Should Know."

A few words from Chris about this makeover: When I first saw this makeover result, all I could say was "wow!" Nice use of color to grab attention and visually stablize the brochure. Look at the old layout. All those bits and pieces of text and photos don't work together in a cohesive presentation. And the different typefaces just confuse the eye. Where do you look first? Just because you've got funky typefaces and photos of bookshelves, doesn't mean you have to use them. Keep it simple. Make it elegant.


MONTEREY PARK BRUGGEMEYER LIBRARY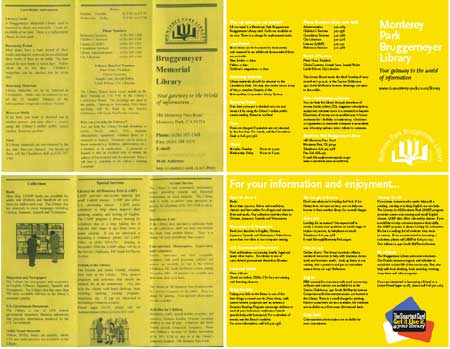 Comments from Linda and Peggy: The Bruggemeyer Memorial Library had a new name so we made that the focus for the cover. The background color was intensified from a washed out yellow to a bright California sun yellow. We added the "Smartest Card" logo to add interest inside but a photo would also work. The brochure had a lot of copy and still does, but it's an easier, faster read with heads that are livelier and sell harder, e.g. "Bring the kids" instead of "Children's Activities" or "If you don't see it, ask" instead of "Interlibrary Loan." We also added a plug for the library's web site, "Use us 24/7."

A few words from Chris about this makeover: The redesign of the brochure does a very nice job of making it attractive, however it will require a color copier for production, whereas the original brochure appears to be black ink on plain yellow paper. While I heartily endorse the approach of the redesign, there may be someone reading this article who won't be able to use color copying. This redesign is not so much about the production parameters, as it is about the basics of creating an attractive printed piece and making the most of what you've got -- using both written and visual tools.

Unfortunately, there's so much copy in the original brochure, the text and graphics are falling off the edges. Even in the makeover this is a problem, but it's not so obvious. This is a layout which needs significant "white space" -- space that is void of text or artwork to rest the eye and lead it through the brochure copy. The simpliest and most effective solution -- besides slashing the copy -- is to use a LARGER piece of paper. Although I haven't seen the brochure personnally, it appears that a fold cuts through the text on the right, inside panel. This can be remedied by paying attention to layout measurements. It doesn't cost any more, and yet, the result is more appealing and conveys the message that the library takes care and pride in its work.

Here's a branding tip: Don't use your library logo as part of a headline or sentence, as shown on the cover of the original brochure. Doing so not only undermines the brand image and its memorability, but it also makes it difficult to understand the written statement. Follow the redesign example. Spell out the name of the library, and then use the logo, with the name of the library in it, as a brand image separate and distinct from all other text and graphics.


SIDNEY SILVERMAN LIBRARY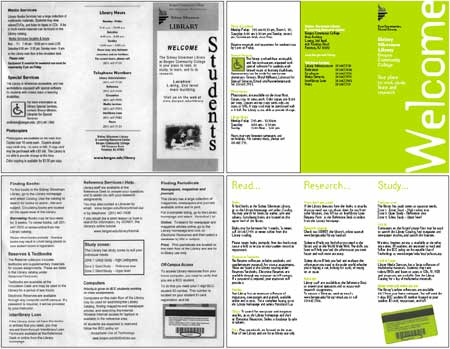 Comments from Linda and Peggy: The Sidney Silverman Library brochure at Bergen Community College had lots of helpful information but the look and tone were passive and not likely to attract attention. We mostly tried to brighten and lighten the color and tone to make it more personal and appealing. All the information is still here but organized around its three mission areas: Read…Research…Study. Instead of "Off-campus Access," the heading is "Ready when and where you are." Instead of "Reference Services/Help," it's "Ask a pro."


SYRACUSE UNIVERSITY LIBRARY




Comments from Linda and Peggy: This was a case of turning up the volume a notch or two. The bookmark copy was nice and simple but didn't make much of an impact. We focused on the desired action--"Ask Us!"-- and Sam made it the focal point of the layout.

Special thanks to...
Linda Wallace and Peggy Barber of Library Communications Strategies, who along with Sam Silvio of Sam Silvio Design, did a great job of making over the materials; Troy Rumpf of the Laramie County Library System for writing up the session notes for this article; Elena Tscherny, Chair of the Swap and Shop Committee who organized the event; and to the brave souls who submitted their brochures to be held up as examples of "what-not-to-do and how-to-fix-it."


Treasure Tips
What Is The Difference Between Marketing And Promotion?
How many times have you heard someone say "I need to market my library!" More often than not, the plans and activities which follow focus on generating visibility and encouraging people to use library information services. While that's a good thing, it's not really "marketing." When librarians engage in activities to draw attention to their products and services with the objective of having people use those services, the strategy being used is called "promotion."

Marketing refers to the entire suite of tools and activities used to manage the exchange process -- the fundamental concept behind marketing. During the exchange process you have something someone else wants. When that person is willing to give something of perceived value in order to receive your item, an exchange is made and each person walks away satisfied that they've made a good transaction. Marketing is composed of activities which facilitate the exchange process from the beginning through its conclusion, and follow-up. Promotion is just one of many tools and strategies which comprises marketing. Survey research, product development, branding, pricing, and market segmentation are just a few other components of marketing.

So the next time you hear someone say they are marketing their library, ask them to clarify what they mean. If they list actions which cover the full spectrum of marketing -- from customer research to product management to communications, then indeed they are managing the "marketing" of their library. But if they dwell on activities which aim to generate visibility and increase service usage, then what they really mean to say is that they are "promoting" their library.


Promotion Gems
Promoting Law Firm Libraries
On July 18th Abigail Ross and Cynthia Carlson, law firm librarians from Washington, DC, shared their marketing ideas and experiences at the annual conference of the American Association of Law Libraries (AALL) in San Antonio. The following are highlights from their presentation entitled Marketing, Schmarketing!

Book Drives
The most successful book drive we held occurred during the week of the Martin Luther King holiday in January to benefit the local elementary school we partner with. We sent everyone in our law firm a list of the books that have received the Coretta Scott King award from the ALA and asked everyone to donate all the titles on the list (we got almost all of them!). People could also bring in spare change which we collected at the Reference Desk and was used to buy anything else the school needed.

We had a lot of fun with this activity. We put up pictures of the schools' library (which was in bad shape) so people could immediately see why we needed the money and the books. Since many of our employees worked with the kids at the school, they could put a face to the cause (always a good thing). While this type of activity is fun and rewarding, it also benefits our library too. Book drives generate good will and visibility for our services as people come down to drop off books, or stop by to see how many books we've collected and check on the progress of the book drive.

St. Patrick's Day
For us, this is always a good day to celebrate -- from Pot O' Gold guessing games (how many golden candies are in the Guinness mug?) to limerick contests. We held such a contest one year and had a blast -- the limericks had to be law or library-related and they couldn't be too lewd or crude. Our winning entry: A famous malpractice attorney once found himself strapped to a gurney. The doctor came by with a glint in his eye; Said "Get set for an interesting journey."

April and National Library Week
We like themes because they give you a platform for tying together celebration activities. For example, "The Library: Your Passport to Information," "Puzzled? Call the Library!" Our library training classes might apply the passport theme as "The Top 10 Best Travel Websites." Or "Puzzled about treatises? Come down for our 15-minute how-to class." We find that bookmarks, parties, and other activities reflecting the theme helps us to stand out in the customer's mind, and tying it to a resource or learning opportunity is a bonus. (Chris' note: a set of different activities for the same promotion theme is known as a Promotion Mix.) When we ran the passport theme, people who attended a number of our training classes during the promotion week won the travel guidebook of their choice.

September: Fall For Great Resources. Banned Books Week
So much to do in the Fall! We always take the opportunity to connect with our customers and acquaint every single person with a resource they didn't know about before. We highlight certain reference books every week and we celebrate Banned Books Week to highlight the First Amendment (We also use it as a great excuse to give away free books). We also take this month to stop by everyone's office to say hello -- and that isn't easy in an office with about 500 people! But we want everyone to know our names, and this is a good month to connect with people who are our customers.

October: Be Afraid. Be Very Afraid!
Halloween is a great opportunity to ask customers: "Do you know what YOU spend for online research?" Or "Do you know what's MISSING in that Google search?" We seize every opportunity to drive home the library's case for value. We show how expensive online resources can be if not used properly by a professional and why it pays to use cost-effective searching techniques. And as we all know, free doesn't always mean better.


Pearls of Wisdom
Fishbon Video Newsletter
Our lead article in the April issue of Marketing Treasures reviewed newsletter production. Soon afterwards we found this example of newsletter innovation and creativity. The Fishbon Library of the UCSF Medical Center at Mount Zion in San Francisco, California uses video technology to deliver news about their library, services and events. The videos utilize equipment and software which is easy to use and produces good results. Best of all the videos show the staff in action and deliver targeted messages with friendly, light humor and interest -- no talking heads or library jargon here.

If paper or electronic newsletters aren't producing desired results, consider using videos like the Fishbon Library. Recent videos can be viewed at
http://mountzion.ucsfmedicalcenter.org/library/news7.html. Be sure to turn up your sound volume and be patient loading the files. (Tip: Don't miss the video entitled "The Search Queen Runs a Race." Chris showed this video during her presentation at the Special Libraries Association and the video received enthusiastic rounds of applause!) Get the details about video production, including some of the technical issues, from Gail Sorrough, Library Director and Laura Olson, Video Producer, in their article at: http://digbig.com/4eadc (MS Word doc file)

Idaho Bookmark Templates
Want a quick, simple way to start generating support and awareness for your library? Click on the following link for a new advocacy bookmark template courtesy of Jillian Subach at the Meridian Library District. http://www.idaholibraries.org/divisions/pr/advocacy-bookmark.doc

You can customize the bookmark with your library's address, hours, website, and special information. If you have trouble with the above link, go to http://www.idaholibraries.org, click on Committees and Divisions, then choose PR/Advocacy, and you'll arrive at the link.

While you're there, take a minute to read the latest information on advocacy provided by the Idaho State Library and ALA. If you have any questions, ideas, or suggestions, contact Jill at: jillian@mld.org.

The Return on Investment (ROI) Of Libraries
A full roster of articles, books, studies and presentations pertaining to library value and their return on investment (ROI) has been compiled by the ALA Office for Research and Statistics. The new webpage of resources can be perused at: http://www.ala.org/ala/ors/reports/roi.htm

Managing Your Professional Image
What we call ourselves, how we behave, and what stereotypes we perpetuate or break, contributes to our image and how others perceive us. An insightful paper soon to be published in the Academy of Management Review, addresses professional image and how to manage it. The paper makes for thoughtful reading, especially since the perception of library value and our value as information professionals is impacted by image.

We recommend starting with an interview of the author, professor Laura Morgan Roberts, written by Harvard University Baker Library librarian, Mallory Stark at http://digbig.com/4eadp. Then read Professor Roberts' full 64 page paper. We promise you won't be bored. And if you happen to be a student or newly minted MLS, we advise that you sit up and take notes!
http://www.lsa.umich.edu/aari/pdf/Changing%20Faces.pdf.


Help This Marketeer
Send Library Cards to Exter Library
From time to time we will print a call for help from a colleague facing a unique marketing challenge. You are invited to help by sending in your suggestions for solving the problem. We'll pass along the suggestions in the next issue of Marketing Treasures.

Amy Skolnik, Director of the library in Exter, Rhode Island (town population about 6,000 people) writes..."The town of Exeter was the only town in Rhode Island without a full-service library. There was a small, one-room lending library in the town hall that was floor-to-ceiling books and was only open when the Town Hall was open. A group of local citizens worked about ten years for our current library to exist, fighting dismissive town councils and the fear of rising taxes. We opened our doors on Sept. 25, 2004. To celebrate our first year anniversary, I think it will be interesting to collect and display library cards from around the world."

Help this Marketeer by sending your library's card by September 15th to: Amy Skolnik, Exeter Public Library, 773 Ten Rod Rd., Exeter, RI 02822.

Need some help with a promotion program? Looking for advice? Like to know what others have done? Send your marketing challenge to "Help this Marketeer" at
MarketeerSOS@chrisolson.com.


Golden Opportunities
July 29. Communicating Your Library's Value. A workshop on communicating the value of your library services to politicians, funders, stakeholders, users, staff, and the general public. In Greensboro, NC. Sponsored by Solinet. http://digbig.com/4dygx

August 4. Survey Says! How to Conduct Surveys. A workshop on survey methodologies, including online surveys. At Louisiana State University in Alexandria, LA. Sponsored by Solinet. http://digbig.com/4eaap

August 5. Using Marketing to Enhance Library Performance. A presentation by Bill Sannwald in Vermillion, South Dakota. Contact: Steve Johnson at skjohnso@usd.edu.

August 30. Writing Customer Focused Email and Chat. Learn how to prepare e-mail responses that clearly answer customers questions and build customer loyalty. In Washington, DC. Sponsored by CAPCON. http://digbig.com/4dyhb

Online. Advocacy Institute Webinar. A Web-based version of the June 24, 2005 ALA Advocacy Institute.Targeting the beginning library advocate, institute attendees learned strategies for message development, building grassroots coalitions, and lobbying tips. The Web-based version of the Advocacy Institute provides audio of the actual day with accompanying PowerPoint presentations. http://www.ala.org/issues&advocacy.
Ask Chris Olson to help you with branding & marketing endeavors!
Chris has an M.L.S. and experience managing library services. A graduate business degree and more than 20 years of working with information professionals and their library marketing endeavors makes Chris the perfect choice for helping with your next marketing project. Service reinventions, logo design, brainstorming sessions, web site development and design, and branding strategies are just a few of the projects Chris regularly works on. To discuss your project with Chris call 410-647-6708.Chris@chrisolson.com
. . . . . . . . . . . . . . . . . . . . . . . . . . . . . . . . . . . . . . . . . . . . . . . . . . . . . . .
If you want to peruse the newsletter in your browser, you can read it here:
http://www.chrisolson.com/marketingtreasures/mtcurrent.html
You are being sent this mailing because you have subscribed to Marketing Treasures or expressed an interest in library/information services marketing. If you would like to remove yourself from the mailing list, go to http://web.chrisolson.com and delete your subscription in the member detail window.
Did a friend send you this? To begin receiving your own complimentary copy of Marketing Treasures, complete the short form on the Sign-up page.

Questions? Comments? Ideas? Send your e-mail to MTComments@ChrisOlson.com or call (410) 647-6708. Thanks!

You can change your subscription profile by visiting http://web.chrisolson.com
Please do *not* click on the above link if you are reading a pass-along copy of this issue because it will change your friend's account. Instead, please use the following link to start your own subscription: http://www.chrisolson.com/marketingtreasures/mtsignup.html

Contact us for reprints/article use at marcom@ChrisOlson.com.

(c) 1987-2005 Christine A. Olson
Chris Olson & Associates : 857 Twin Harbor Drive : Arnold : Maryland 21012 USA
www.ChrisOlson.com
. . . . . . . .
July 2005
Volume 14 Number 7
Brochure Makeovers
What is Marketing vs Promotion?
Promoting Law Firm Libraries
Fishbon Video Newsletter
Idaho Bookmark Templates
ROI of Libraries
Managing Your Image
Help this Marketeer: Exter Library
Golden Opportunities